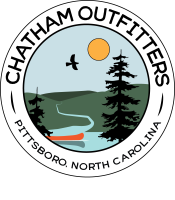 Meet Our Team
Tyler Harris (Co-Owner, General Manager) grew up in Southwest Virginia and spent his childhood exploring the Blue Ridge Mountains. Tyler loves to play disc golf, hike, camp, long distance backpack, kayak, and farm.  Tyler thru-hiked the Appalachian Trail in 2008. Approximately 4,000 people attempt to thru-hike the AT every year, but only one in four actually make it. Many of the brands Chatham Outfitters carries today were inspired by his extended time in the woods. 

Tyler and his wife Jennie moved to Pittsboro in 2015 to be closer to their family after living in Ohio and Tennessee for several years. Tyler's background is in water management and before Chatham Outfitters he was a research specialist with the NC State Aquatic Plant Management Program. He spent the majority of his days on a boat studying aquatic invasive plant species in lakes and rivers across the state. Tyler joined New Horizons West as co-owner and general manager in 2023. He's a wealth of knowledge on the lakes and rivers across the state and gear preparation for multi-day hiking excursions. 

 

Catherine McLeod (Co-Owner) grew up in Fayetteville, NC and graduated from Terry Sanford Senior High School. She attended NC State, Oregon State and graduated from UNC-Chapel Hill. Twice. She worked in restaurants in Chapel Hill, taught ESL at CCCC and handled the administration at The Center for Peace Education, a non-profit that focused on conflict resolution. Ultimately she earned her Masters of Public Health and worked on international health projects as well as at the Cleveland County Health Department in Western NC. 

Catherine has been a business leader in Chatham County since 1996.  She has been instrumental in creating the vibrant downtown that Pittsboro has to offer by starting a wholesale business, creating the Pittsboro staple New Horizons Downtown, and helping form the Pittsboro Merchants Association (now the PBA). The need for men's apparel inspired her to launch New Horizons West in 2016. Catherine and her wife Sara live in Pittsboro. They love to travel across the world and spend time with their three grandchildren.

 

 

Jay Wellons

- 

Growing up in a family of farmers I was always outdoors. I went camping and fishing every summer with my grandparents which further strengthened my love of nature. My wife and kids love camping in our travel trailer and my son and I have been tent camping for several years with Pack 93 and now, BSA Troop 93 right here in Pittsboro. I love that we live a few hours from either the mountains or beach, are surrounded by lakes and rivers, and have many hiking trails just minutes from the store. As Manager of Chatham Outfitters I love finding new items for camping and travel that would be of benefit to our customers. If you have questions or are outfitting yourself, family, or friends I'd love to help!

 

 

Damien Dillenschneider - Store Associate - Damien joined the team in 2022 and has worked in sales and customer service for over twenty years. He has also been a volunteer with local and regional wildlife rescues since the age of 12. In his spare time he enjoys making jewelry, hiking with his family, and playing disc golf with his wife and friends. 

 

 

Ben Becker

- Store Associate - 

Ben started at New Horizons a year ago. He loves to spend time outdoors, especially hiking, camping, and playing disk golf with friends and family. He is a big fan of outdoor gear and is very knowledgeable about pocket knives and camping tools. 

 

Liz Mihalik - E-commerce Manager - Liz joined New Horizons Downtown as Store Manager in 2018, and transitioned into Inventory Manager as both New Horizons Downtown and New Horizons West were quickly growing. Then Covid hit, and everything in-person ground to a halt. She was tasked with creating an e-commerce presence for both New Horizons Downtown and New Horizons West (now Chatham Outfitters!). In her spare time, Liz loves to cook, garden, and watch very bad television with her husband and cats. If you happen to catch her working the occasional floor shift, you can count on her to problem solve and find the perfect gift or pair of shoes for you!

 

 

 

Jody Cedzidlo - Finance Manager - Jody has been running Flytrap Studios, a silkscreen studio here in Pittsboro, since 2008. She brings entrepreneurial and financial wizardry to the Chatham Outfitters administrative office. When she isn't crunching numbers, you'll find her paddling the Haw, swimming in the ocean, or tending to her perennial garden beds. 

 

 

Jennie Harris - Marketing Manager - Jennie joined Chatham Outfitters in 2023. She loves using her creativity and marketing background to help promote Chatham Outfitters in the community and beyond! She is originally from southwest Virginia and lives in Pittsboro with her husband Tyler and their daughter. Jennie loves to grow vegetables on her small backyard farmette and cook yummy farm-to-table meals for her family.
Your cart — 0
You cart is currently empty